Home Automation – The Perfect Lockdown Project
I'm a huge fan of home automation. My wife is not, and the kids are ambivalent. That is until you replace a mundane chore with a combination of the internet and robotics.
Home Automation can be quite intimidating. However, if you make some early decisions in the right sequence, you can avoid future frustrations.
Hold Your Horses
A little bit of housekeeping. Here are a few pre-flight checks to perform before we move on.
Make sure your WiFi is in good shape. It might be wise to upgrade your router or access point. Consider upgrading to a Mesh system like the AX1800 Dual Band Seamless Mesh Wi-Fi 6 System (3-Pack) from D-Link. Mesh systems like this help spread internet around your home like a well-buttered piece of toast. If you've got a problem spot, then the AC1900 Mesh Wi-Fi Range Extender – also from D-Link – might do the trick.
Take stock of how you live and what home-tech you might already have. Stop for a moment and think about how your live in your home. Does everyone hang out together in the living room at night and on the weekends? Do you entertain? Do you have a backyard? What about pets? (I'll get to this in more detail later). Do you listen to music in the home? Have you alreday got a Sonos system or Apple HomePod in the house? Do you have Smart TVs?
Pick the right location for the main controller. Wilst you can drive your smart home easily from your smartphone, using a centrally located controller such as the latest Amazon Echo Show 10 or the super stylish Lenovo Smart Display 10 gives everyone in the home access. This might be the kitchen bench or somewhere easily accessible for everyone in the house. Remember, this spot needs a bit of space, power, a good WiFi signal, and most important of all must be able to be heard by everyone for voice-commands. Don't put it in the front room when you do all your living in the rear of the house or on a different floor.
These are all important things to note, and if you have some awareness of these now, connecting more home-automation systems in the future will be super-easy.
Google Home / Amazon Alexa / Apple HomeKit
Selecting from these three platforms is not at the expense of another. Think of this selection in the same way you might select your preferred airline or hotel – they all do the same thing, but the way yours does it is just better for you.
Me – I'm all in on Google Home, which Google Assistant powers. This is mostly driven by the fact that we've all got Gmail accounts and use Google Workspace for much of our work. Don't panic here – it's not a point of no return moment – however, if you've got an Android device (Samsung or Google or LG, for example), then Apple HomeKit probably isn't going to be the right pick for you.
Once you've made a decision, it's time to set up an account to drive all the awesome home-automations you're going to create.
Apple HomeKit (download the App onto your iPhone or iPad)
Lights, Cameras, Actions
Whilst it's tempting to go hard and be sucked in by all the home-automation products at Bunnings – don't. My advice is to start with something simple like a WiFi Smart Plug like the HS-110 from TP-Link. Phillips has great starter kits for their Hue smart bulbs.
A smart plug is great because it can control anything with a power plug. Lamps are a great example. "OK, Google. Turn on the lights in the Living Room" is easily the most regularly spoken sentence in our house. Another ideal use for the smart plug is a fan or a heater that could be turned on at a specific time.
The other option is to connect a device that you might already have in the home such as a speaker.
If you've got a Sonos system, for example, then let's get that connected to your system.
Sonos is a great option as it already has Spotify connected to it.
Here's how easy it is to do from the Sonos App…
Homes and Rooms
Once you have a device or two connected, it's wise to start setting up Rooms and allocate devices to them. All the apps have a pretty standard hierarchy where you set up a Home and then create Rooms within the home.
Rooms are crucial if you're using voice commands to trigger specific actions in a room. Turning off the Driveway lights or skipping to the next music track in the Kitchen.
They are also handy if you're prone to leaving an unnecessary light on somewhere in the house. The app will show you what's on and off in each Room and provide control with a simple tap – even from hundreds of miles away.
Cameras
Cameras were the last piece of the home-automation puzzle that I put together. Yes, privacy concerns did exist, and rather than give in to those, I took the view that peace of mind was more important.
Companies such as Ring and D-Link and Arlo make brilliant cameras for multi-purpose indoor and outdoor use. My first tip when looking at cameras is to go for ones that are powered from a wall socket. Battery-powered cameras are great for locations that are inaccessible but they will burn through batteries that tend to be expensive. Rechargeable batteries are available on devices such as the new Ring Video Doorbell 4.
For the exterior of the house, D-Link has the Full HD Weather Resistant Pro Wi-Fi Camera that uses AI to detect human movement in any weather condition as well as two-way audio with a built-in microphone and speaker.
All three camera makers have brilliant companion apps that allow you to control privacy and cloud recording settings and most importantly, connectivity to Google Home, Amazon Alexa, or Apple HomeKit.
Actions
Smart home actions are where real home automation comes into its own. If you've ever used IFTTT.com (If This Then That) then you will know how convenient Actions are.
A simple example is that when you leave the house (with your smartphone) the Smart Home app detects this and triggers all the lights to go off and arm the cameras. One that we use is that when any of our smartphones return to the house after 5pm the outside lights come on.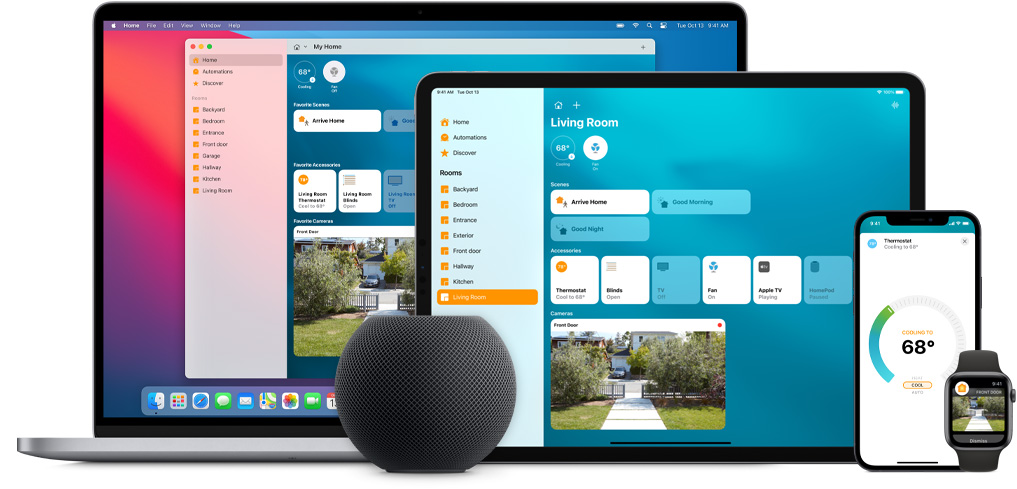 Other useful actions can be triggering lights on a timer when you're away or providing smartphone alerts when the temperature in a room gets too hot or cold.
For the elderly or those that might be hard of hearing, a smart doorbell can be linked via an Action to a smart bulb such as the Phillips Hue to flash when someone is at the front door.
Customisation
One very useful feature of the Google Home/Assistant world is that any requests such as driving directions or music choices can be customised by the voice that the device such as the Google Nest Hub is hearing.
If I ask for directions from North Sydney to Chatswood, the device knows (by my voice) that it is me and will give me the directions by car as it knows that is my preferred transport mode. The same audio request by my 15 year-old daughter would be served by mass transit directions. Direction requests are also sent to your device via the Google Assistant app.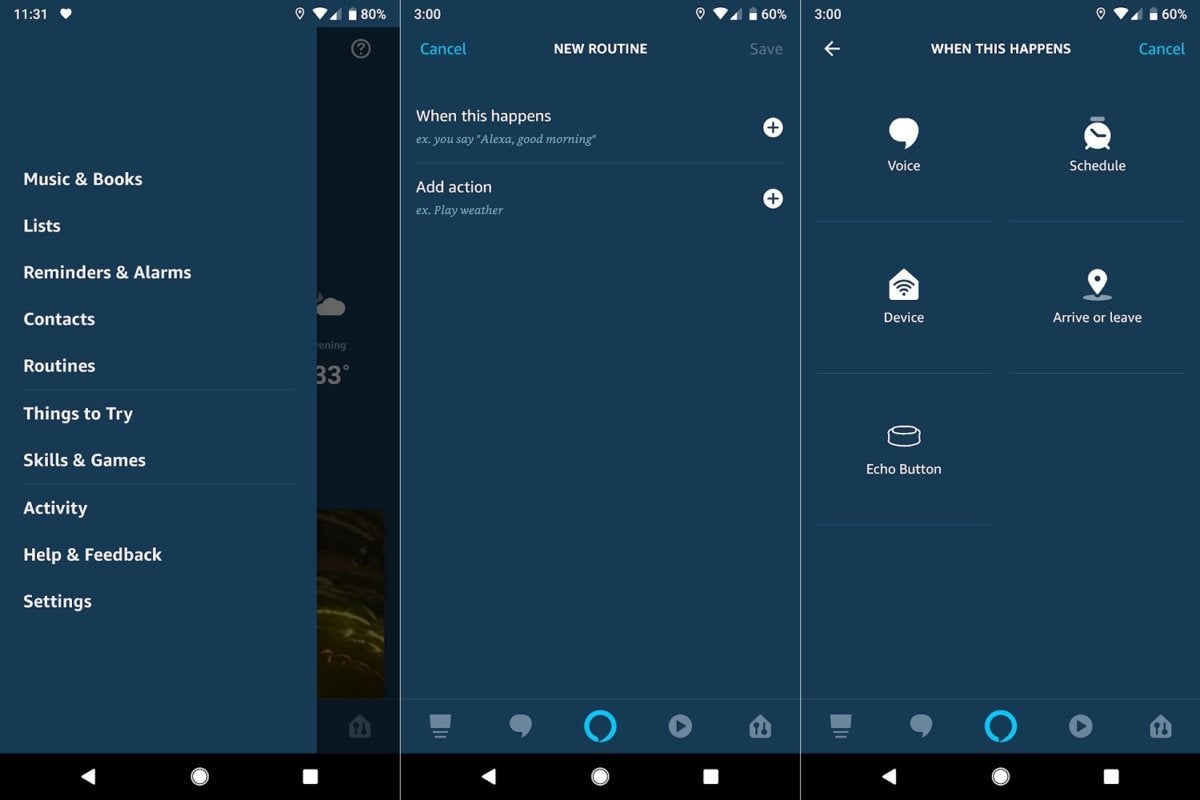 Another very useful customisation which is consistent across all the home automation platforms are Scenes (or Routines). Scenes allow you to group Actions into a sequence based on a specific command. "Hey Google, it's dinner time" can turn off the TV, turn on the lights in the dining room, and start playing a dinner playlist on YouTube Music.
"Everything is better with cookies" – Alice from The Brady Bunch
I wasn't sure about bringing a robot vacuum cleaner into the house. In the current lockdown situation, four of us are at home with the dog. This house isn't big enough for everyone.
That was until I decided to name our Viomi S9 Robot vacuum cleaner, "Alice". This changed everything. Now Alice goes about her chores every day with a dull and efficient hum, and once she's done she sends me a small notification that just reads "Cleaning completed". If you've got floorboards and pets, then you can too know the joy of a daily automated vacuum.
Like all the robot vacuum cleaners, the Viomi S9 maps out the house and based on that you can specify no-go zones so only the key areas are cleaned. The Viomi S9 has an additional feature that means the floors are mopped thoroughly every Sunday morning.
Devices100
There is a growing list of devices that are able to connect to the Smart Home. The main thing to look for is the "Works with" branding on the packaging. As long as your platform is displayed, then you're good to go.
Here are a few resources to browse as you plan your Home Automation strategy.
Some Challenges and Pitfalls
There are some aspects of home automation that can be frustrating and drive you to the edge of reason.
Voice is still a user interface that's in its early days. We might think that it's well advanced, but it can still be derailed. If a device doesn't hear you correctly, it will still respond. So, whilst you may have said "…play John Mayer in the living room.", it may respond by playing John Moore, a baritone in the Minesota Opera.
Each system offers a wide range of music streaming services such as Spotify, Deezer, YouTube Music and Apple Music. We have found that using a platform in the house that we don't use in the cars is helpful. If my wife's playlist was on in the house, it would stop mid-song as soon as she left the house and connected her smartphone to Apple Car Play. We now use YouTube Music in the house (which is low-latency and brilliant) to avoid the cone of silence descending.
It's also worth noting that each Smart Home system records specific verbal requests made to it. As soon as you say "Alexa…" it's recording.
Conclusion
During the current lockdown across much of Australia, it's a great time to order a few Smart Home products and get your eye in with some basic functions. Great places to start are JB HiFi, Bunnings, Bing Lee, and Officeworks.
My main piece of advice is to find those valid purposes for automation in your home before diving in. Once you start you can't stop…